We have the flu vaccine. Call our office to get scheduled.
New COVID-19 Antibody Testing
We now have availability to test for the antibody for the COVID 19 Virus. If you would like testing to look for previous exposure, please call to schedule a virtual visit , schedule through the MyPrivia app, or on our website.
How easy is a virtual visit?
Want to know how a virtual visit works with your provider? Watch the video below to see how easy it is to see your provider virtually.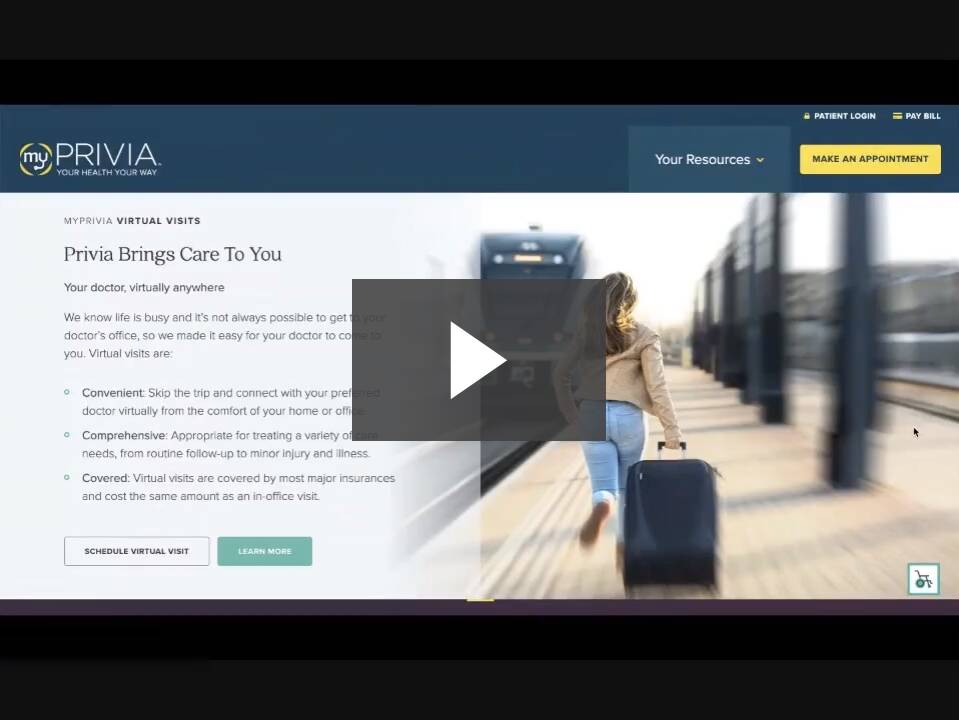 myPrivia Virtual Visits – How To Video – Desktop – Privia Health
At Albemarle Center for Family Medicine, we want you to know that we are open and ready to take care of your healthcare needs. Travel to and from medical visits is allowed under the Governor's latest travel restrictions. We can also perform virtual visits using your computer or smart phone so you don't have to leave your house. To learn more about this or to schedule an appointment, you can call our office at 434-973-4040.
We have added additional professional staff so we can accommodate same day / next day appointments. We are here to provide for your care and to help determine when higher level care such as the emergency department is warranted. Our goal is to keep you healthy and, when appropriate, help relieve some burden the local emergency departments experience during this crisis.
Call us today to schedule your next appointment.
ACFM Family,
These are very challenging times for all of us. We wanted to share some precautions that we are taking to protect your health and that of our staff.
Cleaning and Sanitation:
We have implemented aggressive cleaning protocols throughout our facility to protect both our patients and employees. Your safety and health is our number priority.
Patient Screening:
When calling our office for an appointment, we will be asking you additional questions to triage if you have any respiratory issues including cough, congestion, shortness of breath, difficulty breathing, ear pain, fever, or sore throat. If you answer yes to any of these questions, you will be transferred to a triage nurse to evaluate if you are high risk. We appreciate your patience during this period as we realize this will take additional time in scheduling an appointment but will benefit everyone involved.
High Risk Patients:
High risk patients will be seen in a tent we have set-up at our entrance. You will be asked to wait in your vehicle when you arrive, call and let us know you have arrived, and a staff member will come to you when we are ready to see you. These patients will receive a thorough evaluation and any testing that is deemed appropriate based on what we find. This will protect our other patients and staff not directly involved in your care.
Virtual Visits:
We are encouraging our healthier patients to take advantage of our virtual visits, if clinically appropriate, to avoid coming into the office. Your provider can perform this visit using your computer or smart phone as long as you have a camera and microphone. The process is very user friendly and we have received many positive comments about this new service. Your smart phone must have a forward-facing camera and you will need to download the MyPrivia app form the app store.
Thank you for your patience during this period and we look forward to taking care of you and your family. Please feel free to call our office if you have any questions.
Wishing you good health.
ACFM Providers and Staff
Dear Valued Patients,
As Coronavirus (COVID-19) remains a frequent topic of global news, we want to reassure you that our practice is monitoring the situation closely.
The following preventive measures should be taken to help reduce the spread of COVID-19:
Stay home when you are sick and avoid close contact with people who are sick.

Wash your hands with soap and water for at least 20 seconds. If soap and water are not available, use an alcohol-based hand sanitizer with at least 60% alcohol.

Avoid touching your eyes, nose, and mouth with unwashed hands.

Clean and disinfect frequently touched objects and surfaces.

Cover your cough or sneeze with a tissue, then throw the tissue in the trash. If you do not have a tissue, use your sleeve (not your hands).
Public Information Sites:
Early Closing on Tuesday, January 7, 2020
Due to the snow and accumulation on the roads, we will be closing our office at 1 p.m. today. Please call our office tomorrow to reschedule your appointment.
Kelly Maupin, NP Joins the ACFM Family
We are pelased to annouce that Kelly Maupin, NP, has joined our practice. Kelly is a native of Virginia.  She grew up in Richmond.  She got her BSN from University of Texas at El Paso in 1988.  She worked 14 years as an RN in pediatric and adult ICU.  After years of intense nursing with critically ill patients, she felt it was time for a change, and decided to focus her career on primary care and preventative medicine.   She earned her MSN at University of Delaware in 2002. She has been a board certified Family Nurse Practitioner since 2002.  She moved to Charlotteville in 2003.  She has practiced as a primary care provider in an office setting since her certification as a FNP.  She thrives on the diversity of family practice and very much enjoys every aspect of primary care.  She is the mother of three and grandmother of 4.  She enjoys spending her spare time walking, reading and being with her family.
We are Proud Members of Privia Medical Group
As of October 28th, 2019, we are proud members of Privia Medical Group!